Macrophage Map
Molecular Interaction Map of Macrophage

A team of researchers at the Systems Biology Institute (SBI), Tokyo Medical and Dental University (TMDU), and Keio University jointly created a large scale molecular interaction map of macrophage. The map is intended to serve analysis framework for the Alliance for Cellular Signaling (AfCS), a large scale NIH-funded project lead by Professor Alfred Gilman (Univ. Texas Southwestern Medical Center).
The map and description of the map is available from

Nature Signaling Gateway.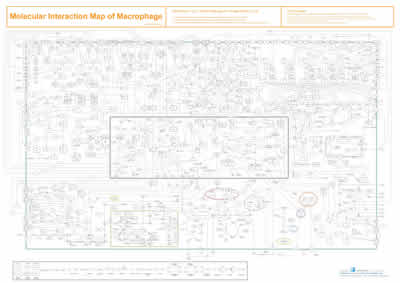 REPORT:

Molecular Interaction Map of a Macrophage
Oda K, Kimura T, Matsuoka Y, Funahashi A, Muramatsu M, Kitano H
August 25, 2004

Research Report




new

Release Name: Molecular
Interaction Map of Macrophage Ver.2.0 (released Dec 2004)



Features:


Toll-like receptors (TLRs) signalings via myeloid differentiation primary
response gene 88 (MyD88) -dependent and MyD88-independent pathways are
added. As input signals, we selected triacyl lipopeptide for TLR1/TLR2
complex, double-stranded RNA (ddRNA) for TLR3, flagellin for TLR5,
lipoprotein for TLR2/TLR6 complex, single-stranded RNA (ssRNA) for TLR7,
nonmethylated CpG DNA for TLR9. (Reference: Tsan MF, Gao B. Endogenous
ligands of Toll-like receptors. J Leukoc Biol. 2004 Sep;76(3):514-9.)



Operating Environment:


CellDesigner version 2.0



---

Release Name: Molecular Interaction Map of Macrophage Ver.1.0
(released: Jun 2004)



Features:


This map was created with CellDesigner version 2.0.
A total number of 506 reactions and 678 species were included.

** MAP in PDF format available as part of AfCS Report



Operating Environment:


CellDesigner version 2.0